According to Houzz, here are five of the top home design ideas you can expect to see more of in 2019: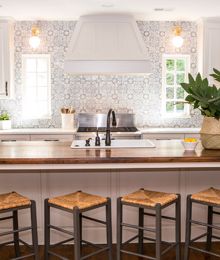 Kitchens.

1. Full-tile backsplash feature walls. Attention-grabbing backsplash tile is nothing new, and many well-designed kitchens showcase unique accents. We've seen colorful geometric and quirky patterns show up in a lot of kitchens for years now.

But what many professionals are seeing more of lately is an interest in taking the tile from countertop to ceiling, including behind floating shelves and flanking range hoods, to create a striking feature wall.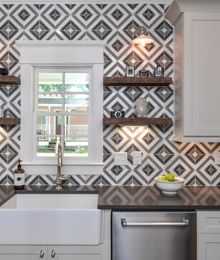 This idea aligns with some broader trends as well. In a 2018 Houzz study, research shows that many homeowners are opening up their kitchens to interior spaces, and that the most popular kitchen layout is the L-shape. This openness means the kitchen is always on display and therefore in need of a good focal point. A full-tile feature wall draws your eye in, whether through shimmer and texture with something like a simple white subway tile or through bold color and pattern as with a Moroccan design.

It's also a relatively cost-effective way to achieve a stunning effect. Buying an extra several square feet of tile won't break the budget, but it looks high-end.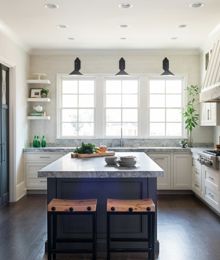 2. Window walls. Cabinet design has become much more efficient in recent years. Deep drawers on perimeter and base cabinets that bring items at the back of the cabinets out into the open means that fewer kitchen cabinets are needed overall. In response, designers and homeowners have shifted to removing upper cabinets on at least one kitchen wall, often to create an expansive window wall that can deliver views and lots of natural light.
"This makes the kitchen more open and expansive," designer Jennifer Ott says. "It feels less top-heavy. To make up for the lost storage space, walk-in pantries or pantry walls, in which the cabinets span the floor to ceiling, are extremely popular. With upper wall cabinets out of the way, homeowners can put in a line of pendant lighting to light their countertop surfaces in lieu of undercabinet lighting."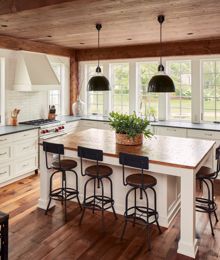 3. Wood on wood. Many of the most popular kitchen photos in 2018 featured lots of wood, and it's easy to see why. Wood adds loads of warmth and character, and it pairs well with whites and grays, two of the most popular colors for kitchen cabinets and walls.

Ott says she's seeing an increase in interest for medium-tone woods rather than super dark or light ones. Wood also adds charm that aligns with the trend toward farmhouse style, which has been gaining in popularity every year for the past three years, according to the recent Houzz kitchens trends report.
Gorgeous walnut wood cabinets and ceiling create a soothing, inviting atmosphere in this Healdsburg, California, kitchen by Claudia Juestel of Adeeni Design Group and Sutro Architects. Meanwhile, the white countertops and backsplash; steel countertop, shelf and appliances; and polished concrete floor cool things down.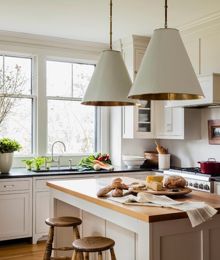 4. Cream-colored cabinets. White is still the top choice for cabinet color, according to the Houzz kitchen report, but no two whites are created equal. Some paint companies offer more than 150 white paints — how do you choose?

Many homeowners are moving away from the bright, stark whites and embracing off-whites that feel warmer and cozier, like Skimming Stone by Farrow & Ball, shown here in a Boston kitchen by Lisa Tharp Design.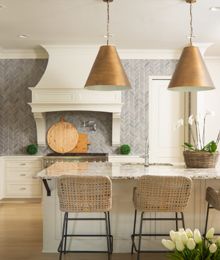 Creamy cabinets paired with other warm finishes like wood and brass and blue-gray tile create a calm and serene feel that works well with transitional and farmhouse-inspired styles, the two most popular kitchen styles.
5. Quartz countertops. Engineered quartz was finally crowned the most popular countertop material in 2018 following a three-year decline in granite, according to Houzz research.

The natural stone and resin material is incredibly durable and can visually mimic the look of more expensive and maintenance-heavy materials like marble and slate.

In fact, quartz is so popular that even risings costs associated with trade tariffs haven't dissuaded homeowners, who save elsewhere in their remodeling budgets in order to still get quartz countertops.